Our Mission

To improve student achievement by increasing access to high quality charter public education options throughout Missouri.
Missouri Charter Stats

Fall 2013 - 2014
Charter School
Enrollment Data

Kansas City - 10,211

St. Louis - 9,228

Missouri Total - 19,439

Source: Missouri Department of Elementary and
Secondary Education
The updated MCPSA website now includes calendars to benefit our members and friends. 

Click the lnks below to view each calendar.
Please click the links below and connect with us through these social media sites.
Website
www.mocharterschools.org
MCPSA Staff
Executive Director
Douglas P. Thaman, Ed.D.
Senior Director
Earl Simms
Professional Services Manager
Rachelle Morgan

Director of Federal Programs
Bette Morff
Development Coordinator
Kate Neff



Business and Communications Manager




Jenny Roff



The Missouri Charter Public School Association (MCPSA) is the membership and professional organization serving charter public schools in the state of Missouri.
MCPSA Advocacy on Federal Charter School Program Funds May Save State From Losing $4 Million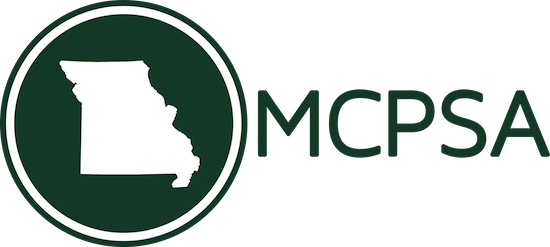 Three Missouri Charter Schools Awarded Grant, State Eligible for Extension

The Missouri Charter Public School Association (MCPSA) recently worked with the Missouri Department of Elementary and Secondary Education (DESE) to seek specific application clarifications, and request a second year no cost extension, to the United States Department of Education (USDOE) Charter Schools Program Grant.  The USDOE has indicated that this extension is possible and, with their approval, over $4 million dollars earmarked for Missouri's charter school program will remain in the State.

"The Missouri Charter Public School Association spent significant amounts of time talking to both state and federal education departments and the National Alliance for Public Charter Schools to see how we could keep these dollars in Missouri to be spent on their intended purpose of bettering Missouri charter public schools," stated MCPSA Executive Director Dr. Douglas Thaman. "Without all of us working together these funds would have been sent back to the US Department of Education and likely distributed to other states."

The clarifications requested by MCPSA also helped three Missouri charter public schools receive federal Charter School Program (CSP) funds by the Missouri Department of Elementary and Secondary Education (DESE) for the 2013- 2014 school year. Academy for Integrated Arts (Kansas City) and St. Louis Language Immersion Schools - The Chinese School and The International School were awarded $125,000 each for their CSP applications.

MCPSA worked with the recipients and other stakeholders to clarify that although under the same LEA, each St. Louis Language Immersion School could be considered separate entities for the grant application.  The SLLIS French School was a previous recipient of CSP funds.  According to grant guidelines a school may only be granted CSP funds once.  The Academy for Integrated Arts is a first time recipient of CSP funds.

Click Here to Learn More
St. Louis Language Immersion French School, Spanish School Named International Baccalaureate World Schools

From St. Louis Language Immersion Schools:

Congratulations on IB World School Status
The last day of school before Winter Break, The French School and The Spanish School received confirmation from International Baccalaureate Organization that they are now authorized IB World Schools for the Primary Years Programme (PYP). Authorization is an amazing testament to the work of our teachers, teacher assistants, Heads and Assistant Heads of School, and Primary Years Programme Coordinators over the past five years. Similar to private school accreditations, IB World School status confirms that our schools have met the IB's international standards for philosophical alignment, governance, staffing structures, professional development, curriculum development, and engaging students in the action cycle. Over the past five years, each school has welcomed teams of PYP educators from Canada, Mexico, the US, and the UK into their schools for site visits, focus groups, document analysis, and critical feedback. Following those visits, our applications were reviewed by teams in the US and Switzerland to bestow our final authorization. Thank you to the teacher teams, parents, students, administrators, Board of Directors, and UMSL faculty who met with our visiting PYP teams to share our progress and questions during implementation.
What does IB World School status mean?
In 2013, IB celebrated 45 years of providing internationally recognized education opportunities. The French School and The Spanish School have joined the ranks of 1,100 elementary schools worldwide, 400 in the US, and only 3 others in Missouri to offer Primary Years Programme. The French School and The Spanish School are now the first and only public schools in the US to provide PYP and total immersion education for all students in an urban setting. Our education model is truly groundbreaking.
Click Here for More Information
Kansas City Education Funders Collaborative to Present Sessions on the 5Essentials

The Education Funders Collaborative is a joint funding effort of the H&R Block Foundation, the Greater Kansas City Community Foundation, the Hall Family Foundation, and the Ewing Marion Kauffman Foundation.  The goal of the Collaborative is to increase the number of quality seats in area schools.

The Collaborative is providing individual district, charter, and private schools with an opportunity to utilize a research-based school-improvement tool called the 5Essentials. The 5Essentials was implemented with over two dozen Kansas City schools in 2013 and will be used to help inform the grant-making priorities of the Collaborative.  The Collaborative is offering the same opportunity to those schools again, but would welcome the participation of additional Kansas City schools.

Click Here for More Information


Special Education Consultant Now Available to MCPSA Members

MCPSA is proud to welcome Katherine Uldall- Welch, who will be providing Special Education consulting to our member schools. Katie is a certified special educator completing her Special Education Coordinator certification very soon. She has extensive knowledge in the areas of special education compliance, reporting, IEP procedures and preparation, as well as delivery of instruction. We are excited about the knowledge and resources Katie will bring, and believe she will be a tremendous resource for our member schools. More information will be forthcoming regarding Katie's consulting services and MCPSA's efforts to assist our member schools with the important work of special education compliance.

Arch Grants Winner Candy Lab Joins MCPSA Preferred Partners Program, Creates Intuitive Apps for Your School
The Missouri Charter Public School Association is pleased to announce a new partnership with Candy Lab, a 2013 Arch Grants Company.  Through this partnership, Candy Lab is offering their premium services at an exclusive discount to ensure that each MCPSA member school has the opportunity to purchase a customized school app to aid in their communications efforts.  These charter school apps can be tailored to fit your school's specific needs and can be used by faculty, students, and parents to access school calendars, contact teachers, view grades and offer other important communication functions.

There are three levels of Candy Lab apps to fit all budgets...

Click Here for More Information