By the year 2023, there are expected to be 4.4 billion email users. And that's just the ones we know about on Earth. Who knows how many are using email in galaxies far, far away.
It's also expected that 347 billion emails will be sent daily. If you lined them up, they'd stretch from here to Tatooine!
With these staggering numbers on email, it's no wonder that email marketing delivers such a high Return On Investment (ROI). In 2018, the DMA reported that for every $1 you invest in email marketing, you can expect on average an ROI of $32. As a way to grow your business and nurture relationships, email marketing truly is a force.
As Yoda said:
For my ally is the Force, and a powerful ally it is.
When harnessed, you can use the force of email marketing to vanquish your competition.
We've put together a handful of email marketing lessons from Star Wars to guide you on your journey.
Embrace the Traits That Make You Stand Apart
We all belong to groups in our society. Whether it's a Jedi, a drone racer, a Chicago Bulls fan or you're lactose intolerant, there are things that inherently make us all the same.
However, each of us are unique in ways that extend beyond the parents of us millennials telling us all we're special.
Whether it's your moral code, your personality or even the struggles you've overcome, there will be occasions where your specific skill set may be in need. Embrace those moments.
Han Solo was the only pilot who could do the Kessel Run in less than 12 parsecs to deliver the unrefined coaxium on time.
With Luke Skywalker's X-Wing stuck in a Dagobah swamp, Yoda was needed to lift it up out of the muck and show the true power of the force.
In A New Hope, it was only Luke who could use the force and guide his torpedos into the Death Star's thermal exhaust port to destroy it.
What does any of this have to do with email marketing?
Your subscribers get a lot of email in their inbox on a daily basis. You need to make sure you're sending content that you, and only you, can deliver. Celebrate what makes your brand unique and your subscribers will open every email you send.
How can you identify what makes your brand special?
How to Make Your Brand Special Tip #1: Offer Something That No Other Brand Can (and That Your Customers Really Want)
In Robert Bloom and Dave Conti's "The Inside Advantage: The Strategy That Unlocks the Hidden Growth in Your Business," the authors emphasize that successful brands must offer an experience that is "neither ordinary nor unique."
This means that customers stay loyal to your brand because they're getting something they need, in a way that they can't get from other brands.
Emails are the perfect medium to emphasize this in implicit and explicit ways. Your emails to your customers — if done correctly — feel useful, welcome and intimate.
EXAMPLE:
FROM: Samsung
WHY IT'S GREAT: The smartphone market is an example of a space that's incredibly crowded. It's also an example of a space where customers are fiercely brand-loyal. Samsung capitalizes on this with their marketing emails, which combine listings for new features and offers to upgrade with stunning graphics and a conversational tone. Smartphones are ordinary in this era, but Samsung convinces its customers that their offerings are truly unique.
How to Make Your Brand Special Tip #2: Offer Something Genuine and Easy-to-Understand to Your Customer
So you've got a great product that's "ordinary and unique."
In order to supercharge your marketing, you'll want to describe your brand's offering in a way that's relatively simple and authentic.
Once again, email shines for this need. You can keep things as simple as you want — while many messages make great use of graphics (or even GIFs), the words always win the day. Take advantage of your subject line and pretext header (more on this later), and use the body of your email to tell a story that your customers want to hear.
EXAMPLE:
FROM: Beats
WHY IT'S GREAT: Talk about simple! A two-year-old could understand this marketing: "You used a free trial of our service to listen to music. You liked it. Sign up to continue." Bonus points for the earworm of a header — you're singing the Rihanna song now, aren't you?
How to Make Your Brand Special Tip #3: Offer Something That Stirs the Imagination — and Let Your Email Marketing Follow That Tone
To quote Bloom and Conti again: "People are intrigued and motivated by imaginative acts because they highlight and dramatize the Inside Advantage of businesses and brands."
Drama — it's not just for the theatre geeks. Great stories and colorful details make your brand memorable. And, again, email is a place to combine those two things to great advantage. This is a fantastic time to rise to the challenge. Can you beat out the nearly 100 messages that the average person receives each day? Can you get your customer to click?
EXAMPLE:
FROM: Airbnb
WHY IT'S GREAT: Incredible email marketing in action. Quick, what's the first word you think of after viewing this stunning marketing email for the vacation stay service? More than likely, it's the word home. Airbnb subtly emphasizes the idea of home through the simple copy, the call to action button and that great photo of people having loads of casual fun. "Home" is about as simple and as powerful a concept as you can get — making it perfect to use for evocative marketing.
Be Loyal To Your Friends
A good friend will stay by your side no matter what.
Great friendships require some effort, but they pay off in amazing ways when you put in the work.
Think about the unbreakable bond that Han Solo and Chewbacca share. Time and again, we've seen them save one another's hides, have fun together and face challenges side by side.
Perhaps it's the friendship between C-3PO and R2-D2 that you draw inspiration from. They're like an old married couple. While they may becker relentlessly, their loyalty will never falter.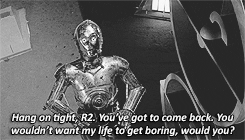 This is how you should approach your relationship with your email subscribers.
Yes. Email marketing is a tool that will help your business. However, it should be done with your customers' needs first and foremost.
If you put your own needs aside for now to benefit your subscribers, the benefits will pay off tenfold.
Your subscribers have opt-ed in and given you permission to send to them. Don't take that for granted. Use customer-centric email marketing to reward your subscribers.
Tip #1 to Make Your Email Marketing All About Your Customer: Put them at the Center of Your Universe
The great sales guru Dale Carnegie said it best: "You can make more friends in two months by becoming interested in other people than you can in two years by trying to get other people interested in you."
Seeing as he was born in the 1800s, the guy obviously wasn't talking about email marketing. Yet his "How to Win Friends and Influence People" is filled with pearls of wisdom that are eternally relevant to us. The main idea boils down to one principle, which has held true since the era where horse-drawn carriages were a transportation necessity and not just a quaint hipster curiosity: People care most about themselves.
That's why it's so important to approach your email marketing by considering your customer's perspective first.
It might feel counterintuitive. You might think that your emails should tell your customers about new features or upcoming sales. And they should — but the thing is, the message will be much stickier if you prove to your customer that you understand what makes them tick and you've got their best interests at heart first.
EXAMPLES:
FROM: Tasty
WHY IT'S GREAT: Tasty has a knack for sharing compulsively clickable content. This email demonstrates one of their time-tested techniques: using enticing imagery and hot tips and tricks that are easy to digest (pun not intended).
FROM: WebpageFX
WHY IT'S GREAT: This digital marketing agency grabs you right from the get-go with the promise of super-useful info. That graphic — the top of an Amazon Alexa product, showing the Red Ring of Failure (which occurs when the AI can't process a voice input) — is also powerful. This is a great example of choosing a central image that will both be meaningful and emotionally powerful for the target audience.
Tip #2 to Make Your Email Marketing All About Your Customers: Don't Make 'Em Mad!
Don't poke the bear. Don't tickle a dragon's tail. Don't abuse your customers' trust with sneaky email tricks!
No matter how you phrase it, the idea holds true for bears, dragons and people. Nobody likes being taunted, teased or taken advantage of.
It seems like this is a no-brainer, but in the rush to grab clicks or signups, it might be tempting to resort to a bit of marketing trickery. (Examples from elsewhere in digital marketing: making popup windows that are impossible to close, using the email address that someone provided for one thing and cross-enrolling it for unrelated and irrelevant lists, etc.)
Don't resort to cheap tricks to boost your numbers. While you might win the battle, you'll definitely lose the war. Once you create the perception in your customer's mind that your brand is not to be trusted, it's almost impossible to correct that. The customer will likely avoid you in the future, and they'll probably tell their friends … and possibly social media, too!
EXAMPLES:
FROM: Bonobos
WHY IT'S GREAT: Don't you hate when you get an email promising one thing but delivering another? Like when you get a message alerting you about new markdowns on clearance items, but when you click the link, it goes to the brand's homepage, which prominently features "new arrivals" (a.k.a. full-price items)? This Bonobos email keeps it clean, simple and easy — they even helpfully included links to jump right into the sale items for your size!
FROM: Hotjar
WHY IT'S GREAT: This one keeps it simple with just three colors and a wonderfully enticing description. The opening line sounds intriguing, and you feel compelled to keep reading out of genuine curiosity — not out of some cheap trick like an empty promise, a seizure-inducing wacky graphic, etc. The full message overs a succinct summary of the entire podcast. Chances are good that the customers reading this one will want to give it a listen — no trickery necessary.
Tip #3 to Make Your Email Marketing All About Your Customers: Get to Know Them By Analyzing the Data
In this era of easy A/B testing, cursor tracking, cookies and more — there's absolutely no excuse for not taking advantage of the treasure trove of data that your customers offer you.
What does this mean in email marketing? You'll want to avoid the appearance of impersonality by tailoring messages based on a customer's history and behaviors. It's not too difficult — we're not talking about extreme specificity. But if you take the time to write and program messages triggered by certain actions or non-actions, and if you reference significant information about your customer's experience with you, it goes a long way towards personalization, which is key to building trust.
EXAMPLES:
FROM: Uber
WHY IT'S GREAT: This is a great example of a nudge. Uber sent this one out as a reminder after sending an initial message describing a fairly compelling flat-rate ride deal. This follow-up keeps it simple by reiterating the key terms and subtly reminding you that this isn't your first notice about a compelling offer — and quantities are limited.
FROM: Spotify
WHY IT'S GREAT: You can bet that this email, written from the perspective of country band frontman Charles Kelly, wasn't sent to hip-hop enthusiasts. Streaming service Spotify has loads of very specific data on each of its users — it knows what kind of music you like, what your listening habits are, who you follow and share with, etc. They used that information to great advantage here to announce the presale for Lady Antebellum's tour. Notice that the email also includes a link to listen to the band's music on Spotify — an action that the service knows that the recipient of this email does frequently.
Tip #4 to Make Your Email Marketing All About Your Customers: Offer Them a Top-Notch User Experience
Life is too short — and the Internet is too big — for savvy customers to stay loyal to brands that offer a subpar user experience.
From broken links to hard-to-see images and poorly timed messages (think emails that arrive on Saturday night), if a brand doesn't make things convenient for its customers, they can expect to lose those customers in short order.
As you write, design and program your marketing emails, make sure you keep things clean, beautiful and personal. And be sure to stay brand-consistent — your customers signed up for your emails because they want and expect the kind of content that made them loyal to you in the first place.
EXAMPLES:
FROM: Birchbox
WHY IT'S GREAT: The luxury of a personal shopper is something that only the most affluent can afford. Or … is it? Birchbox plays product concierge in this email, offering a helpfully curated list of brands and products based on unique customer history. It's win-win, of course — such an email saves time for the customer, boosts open rates for the brand and is highly likely to convert to a sale. The generous targeted discount codes are a nice touch as well.
FROM: Leadpages
WHY IT'S GREAT: What customer doesn't love the idea that a brand will "utterly spoil" them? Leadpages keeps the focus on its rich content here, without pushing products or further signups. This email is nice and sweet, which is appropriate as the intro to digest-style messages.
Tip #5 to Make Your Email Marketing All About Your Customers: Offer Rewards
Loyalty, loyalty, loyalty / 10-4, no switchin' sides / Feel somethin' wrong / You actin' shifty, you don't ride / With me no more, I need / Loyalty, loyalty, loyalty.
–Rihanna, "Loyalty"
RiRi had the right idea.
In this world of endless choices and never enough time, why should a customer stick with your brand if you don't recognize and reward loyalty?
That's where repeat discounts, VIP offers and rewards programs come in. Piggybacking off tip #3 — this is a great time to make use of the copious data you have regarding your customer's likes, dislikes and shopping history.
EXAMPLES:
FROM: Starbucks
WHY IT'S GREAT: When this email was sent, people who signed up for the Starbucks loyalty program for the first time received a promo code good for one free drink. That same program offers discounts and freebies for the customer's birthday, as well as when certain thresholds are reached. Starbucks regularly sends cheerful, clean email messages offering perks, many of which are time-limited or unexpected. This strategy trains the customer to get excited every time an email from Starbucks comes in. That's exactly what we all hope for with our email marketing efforts.
FROM: Crocs
WHY IT'S GREAT: When your customer keeps your marketing emails on the whitelist for one whole year, that's something to be celebrated. Crocs cleverly capitalized on this, with their one-time $15 off coupon, sent to customers on their 1-year anniversary of being on the email list. Try something similar — discounts are great to boost re-engagement, but even an acknowledgment of the signup anniversary shows thoughtfulness and builds brand loyalty.
It's Never Too Late To Turn Things Around
Darth Vader is the original big bad in the Star Wars universe. The one we were told to fight from the start.
However, with the proverbial chips on the table, when it came time to protect his son, he opted to save Luke and kill the Emperor, throwing him down the Death Star reactor shaft.
It didn't change all that he's done, though, it did give him redemption.
Email marketing may not be literal life and death (though it may feel that way sometimes), however, there are things you can do to hurt your email efforts and your brand.
It may not be easy, but there are also ways to turn your ship around and return to the light.
Tip #1 to Turn Things Around with Your Email Marketing Campaign: Use SPF/DKIM
What the heck does sunblock have to do with email?
Just kidding. When it comes to email marketing, SPF stands for Sender Policy Framework. DKIM stands for DomainKeys Identified Mail.
The two work hand-in-hand to add a layer of legitimacy to the emails you send your customers.
SPF works, in simple terms, by providing proof that emails are really coming from who they say they're coming from. In order to take advantage of this protection, you'll want to ensure that all apps that you use to send emails on your behalf are included in your SPF. Check the support logs for each service and your control panel to see exactly how.
DKIM works, in simple terms, by using a unique, private key to encrypt your signature in your email message headers. The private key works in tandem with a public key, which appears in your DNS records. When you send out an email using DKIM, your customer's email server uses the public key to decrypt your hidden signature in the message header and confirm that everything's on the up and up.
In order to take advantage of this protection, all you have to do is enter your public key information into your server's records. This will trigger your customer's server to attempt to decrypt your hidden signature with the public key each time a message comes in. Again, check associated software help guides to ensure you are doing this properly.
Using SPF and DKIM leads to increased deliverability of mail.
Tip #2 to Turn Things Around with Your Email Marketing Campaign: Improve Your Opt-In Process to Set Proper Expectations
We've all been there.
You're looking for an answer to a burning question. Let's say you've searched: "How to breed short-haired hamsters." Hooray — you find a random blog from someone who seems pretty knowledgeable about short-haired hamsters. A pop-up window promises the world's most comprehensive free PDF guide to short-haired hamster breeding, provided you enter your email address. You do so. You receive the guide. You start breeding those hamsters. But then … oh no! This random blogger emails you many times a day about something completely irrelevant to you and your short-haired hamster breeding needs. You angrily unsubscribe, and perhaps even hit "mark as spam" on the email for good measure.
How can this whole scenario be avoided?
With proper expectation setting at the opt-in process, of course.
When someone gives you their precious email address, you owe them an explanation of what kind of emails you will be sending them. How frequent will they be? Roughly how long? What will they be about?
When you communicate these things clearly upfront, you cut way down on the mutual frustration and miscommunication that can occur when someone starts receiving way more emails, or emails about irrelevant topics, than they expected.
EXAMPLE:
FROM: Upworthy
WHY IT'S GREAT: This signup form tells the subscriber exactly what, when and how to expect communications from Upworthy. Sure, it takes time to be cute and funny about it, but the message comes through clearly, meaning the customer is unlikely to become irked later.
Tip #3 to Turn Things Around with Your Email Marketing Campaign: Write Subject Lines That Get Your Emails Opened
Before there were computers and smartphones, people used to say "don't judge a book by its cover."
These days, nobody has time to judge you by anything but your cover.
In the world of email marketing, you "cover" is your subject line and pretext header (that short preview of the message content that appears beside the subject line in an unopened email in the inbox). People make split-second decisions about whether to open your message based on these two things — so make them count!
In order to write a great subject line:
DO keep things short 'n' sweet.
DO convey urgency (without being gimmicky).
DO use personalization tokens to make things specific to your customer.
DO capitalize on relevant references or current events — within reason.
DO give an enticing clue to what the message is about.
DON'T get too random.
DON'T promise something and not deliver.
EXAMPLES:
FROM: Brooklinen
SUBJECT: "Hmm… what's this?"
WHY IT'S GREAT: Come on, how could you see this one and not click? The sheer curiosity factor is almost too much to bear. The luxury bedding company Brooklinen excels at short, catchy subject lines, which their customers love.
FROM: Herman Miller
SUBJECT: "The design is timeless, but the sale isn't"
WHY IT'S GREAT: Art & design shop Herman Miller tastefully nods to its artistic icon status while also conveying a sense of urgency. Who wouldn't feel FOMO after seeing this in the inbox?
Tip #4 to Turn Things Around with Your Email Marketing Campaign: Offer a Preference Center
One of the top reasons customers give for opting out of email communications is "getting more emails than expected."
You want to stay top-of-mind and you have loads of valuable information to share. So should you reduce what you send?
Of course not! What you should do, however, is segment your audience to separate out the die-hards who can't get enough of your content, the not-yet-fanatics who are still feeling you out and the customers who are somewhere in between.
The way to do this is with a preference center, that checkbox option where customers can choose what kind of messages to receive.
EXAMPLES:
FROM: Old Navy
WHY IT'S GREAT: Old Navy does a great job of making one last attempt to hold onto an unsubscriber with a preference center offer that doesn't feel sleazy. The descriptions of message frequency even sound light and conversational, emphasizing the "no hard feelings" nature of things.
FROM: Groupon
WHY IT'S GREAT: Deals aggregator Groupon does a great job breaking their email categories out, so that someone who signs up for dining deals doesn't feel bombarded when they start getting massage discount offers unexpectedly.
Tip #5 to Turn Things Around with Your Email Marketing Campaign: Keep a Clean List with Segmentation, List Verification and Removal of Inactive Subscribers
Segment Your Subscribers — and Send Some Messages Relevant Just for Each Segment
The humor writer Josh Stern said: "I like gross generalizations…I also like disgusting specifics!"
Segmentation relies on the idea that your customer expects "disgusting specifics" from your email marketing. He or she isn't looking for generic blasts — today's customer wants information that's targeted to location, shopping preferences and even more specific factors like size, gender or previous purchases.
EXAMPLE:
FROM: Casper
WHY IT'S GREAT: This email — sent just to the segment of Casper's list that has already made a purchase from the online bedding retailer — combines classy sales copy with inviting imagery, all wrapped together with a tone that feels fun and in-the-know.
Verify Your Email List
List verification is the practice of confirming an email list signup.
It can be accomplished a couple of ways. First, you can use third-party services such as Kickbox, BriteVerify or many others that scan and verify your list in bulk, based on a CSV, Excel or other data file. Or, you could add an API to check the email address a customer provides in real-time to ensure that it actually exists. (Example for when you would need this: If a customer is after some content that you've gated behind an email collection form — such as a coupon, a free PDF, etc. — but feels wary of offering up his or her real address.)
List verification can also be accomplished individually at signup by making people click or even respond to an initial message — sometimes called "double opt-in" — so that the address from which your emails originate can enjoy a prime position on the whitelist. This way, you stay out of the wasteland that is someone's spam folder.
As you can see, each of these methods has specific uses that apply for different scenarios. They each offer different advantages depending on what point in time you need to use them (e.g., when you've run a list for many years but haven't cleaned the data in a while vs. when you have valuable gated content that people keep coming to your site for and you're looking to bolster your email subscriber numbers, etc.).
No matter which method or methods you choose — implementing list verification for your email subscribers is certainly a worthwhile investment of your time.
Remove Inactive Subscribers
Removal of inactive subscribers is, of course, exactly what it sounds like — the sometimes painful but ultimately prudent pruning of subscribers who never seem to open or engage with your content. It's certainly a good idea to offer a last-ditch attempt to engage the subscriber, though — this can be done with an enticing deal, a heartfelt interest message, etc.
Taken together, segmentation, list verification and the removal of inactive subscribers are three killer tricks that keep your email list fresh and your engagement rate high.
EXAMPLE:
FROM: Grammarly
WHY IT'S GREAT: A bit of personalization. Short & sweet message. A tempting call to action. This inactive subscriber prompt from grammar and usage editor Grammarly poses its request in a way that puts the customer first ("Just to be safe, please make sure …").
Tip #6 to Turn Things Around with Your Email Marketing Campaign: Send Email Your Subscribers Love
Did you know that the average person receives 90 emails every day?!
That's a heck of a lot of noise. In order for your messages to have a fighting shot of being read, you need to make sure that your emails feel deliberate and targeted — not random and generic.
When you combine all the elements above and harness them in your email marketing, the result is messages that feel personal, relevant and memorable.
We'll add one more tip to close this section — focus on what your customers love. It's that simple.
EXAMPLES:
FROM: Amazon
WHY IT'S GREAT: Amazon is the master at sending info-rich, relevant product aggregation emails. Think of it as cart abandonment marketing on steroids. The simple but persuasive text, tempting yellow call-to-action buttons and total personalization here make it really stand out.
FROM: Net-a-Porter
WHY IT'S GREAT: Designer retailer Net-a-Porter combines the commercialism of a department store with the aspirational appeal of a glossy fashion magazine. Make no mistake — their site is for ecommerce. But their chic marketing emails offer tons of usable, relevant content. Customers know that the news and insights in these emails are a great value-add, so they're happy to open them.
Never Say "I Have a Bad Feeling About This"
This is a phrase we've heard in basically every Star Wars movie to date.
Our heroes are usually right to trust their guts too.
Han said it before the walls of the trash compactor starting closing in on them in A New Hope. C-3PO tells Artoo the same as they enter Jabba the Hutt's palace in Return of the Jedi and BB-8 even beeps and boops it in The Last Jedi.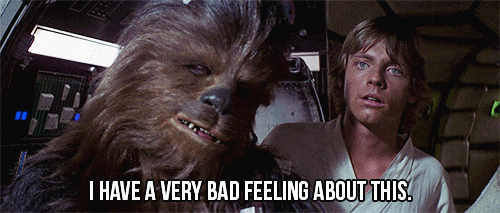 For some, the thought of doing email marketing and automation is enough to utter those words. It doesn't have to be that way!
With testing, you can try out various strategies and find out the ones that will work for you. Then you can hit send with confidence!
Whether it's with A/B testing, following your reports or otherwise, there are many elements of your email marketing campaigns that you can test.
What to Test Metric #1: Subject Line
This one's simple, with great bang-for-the-buck. Almost half (47%) of all email recipients open email based solely on the subject line. Almost 7 out of 10 people (69%) hit "report as spam" based only the subject line.
Those are some steep numbers! Therefore: Be very careful what you choose as your subject line.
EXAMPLE:
A/B Test your subject lines to see which ones get more opens. Fun quick exercise: Which of the two do you think is more likely to be opened?
Subject Line A: "It's FREE. All the tiny houses on our site and more."
Subject Line B: "It features all the houses on our website plus more…"
Answer: The first one — featuring that oh-so-irresistible word FREE, got 26% more opens for the Tumbleweed Tiny House Company, according to a test the brand conducted via AWeber.
What to Test Metric #2: From Name
First things first: Whatever you do, drop the "noreply" send address. Nothing sounds more impersonal or closed-off. ("Noreply" emails are still fine — and probably preferable — for certain types of simple notifications.)
Play around with the name from which your email originates and see what gets the best results.
EXAMPLE:
When customers love your products — just like Costco loyalists tend to love the members-only wholesale paradise — they're going to get a lot of emails from you. Order confirmations, news blasts about featured offers, branded credit card communications, etc. Keep things clean and click-worthy with clear and specific "from" sender names.
What to Test Metric #3: Day of Week and Time of Day
According to Propellor CRM, the best time and day to send emails is Tuesday at 10:00 a.m.
That doesn't mean that all your marketing emails should go out at that time, of course. There are various scenarios under which the lowered competition or various customer mindsets at different days or times can work to your advantage. Let the reason for the message and the audience it's intended for guide your thinking on when to schedule the message's delivery.
Further, should you send out emails in one big blast across your entire subscriber base, or should you stagger them according to customers' geography and time zone? The answer can vary. For example, if you're anticipating a big click through rate from an email, you can use that to your advantage — if you want to avoid crashing your site if you send an email announcing an exciting sale, you could send the message based on time zone. If your message asks people to check out a social media post, on the other hand, you could benefit from a big push that everyone on your subscriber list receives at the same time — because the heavy traffic might allow your post to trend or go viral.
If in doubt — A/B test, of course!
What to Test Metric #4: Frequency
What's a good cadence for your marketing messages?
How often should you appear in your customer's inbox and still provide value, without hitting the tipping point where they're tempted to press "unsubscribe," "mute" or the deadly "mark as spam"?
As with most of these details, it depends heavily on your audience segment and their motivations.
This one's a bit harder to A/B test, as you of course don't want to reach that annoyance point and lose a customer forever. If you have open and engagement data to analyze from existing or previous campaigns, you can use those as tea leaves of sorts.
EXAMPLE:
Online print shop Vistaprint is great about offering free shipping codes and other various discounts. But when you offer too many discounts, you train the customer that "full price" is just a phantom number, and you risk degrading the value of your unique offering. Be careful as well about making things sound special — great if the sale or occasion really is unusual; perhaps a turn-off if a customer is receiving messages about how you're "rolling out the red carpet" every single day. Beware of glazed-over eyes and marketing fatigue, which can be killer for your campaigns.
What to Test Metric #5: Mostly-images vs. mostly-text
A picture is worth a thousand words.
Thing is, people checking their emails probably don't want to read a thousand words.
How do you strike the right balance between offering visual appeal and using the power of great copy?
A/B test versions of your emails with loads of text and loads of images. This one's an easy and fruitful test to run, and you can be reasonably confident that the results given offer a usable insight.
Here's what you can expect to find: text-based emails tend to have higher delivery rates (image-heavy messages can get flagged for spam more easily, and/or may not load or may not load fast enough, resulting in the customer not getting anything). Yet, when delivered, image-based emails tend to have a higher click-through rate.
EXAMPLE:
FROM: Seafolly
WHY IT'S GREAT: It's hard to beat a camel. Sometimes — such as in the case of an upscale beachwear retailer like Seafolly — it's best to rely on images. Aesthetics are such an integral part of this brand's offering that it's potentially worth the risk of not making it into some customers' inboxes.
FROM: Milanote
WHY IT'S GREAT: On the other hand, this onboarding email from notes app Milanote feels no-nonsense and no-gimmicks — a great sign of a streamlined life to come.
What to Test Metric #6: Copy Length
In the evolution from direct mail to email, many marketers have waged an internal war over whether longer is better. That's generally the rule in the paper, envelope and stamp world of direct mail — it's arguably untrue in the pixel, spam and "block sender" world of email.
Your ideal copy length will depend on what your product is and what your customer segment has the patience and desire for.
EXAMPLE:
FROM: Paul Jarvis
WHY IT'S GREAT: Wow, that's long! Then again, Paul Jarvis is an author, and this is the email he sent to his list — you can bet that most of the people signed up to receive his updates loved this one. What applies for an author may not necessarily hold for your brand, of course, so test out various copy lengths to see what your customers love best.
What to Test Metric #7: Links v. Buttons
Take it from the kid who smashed all the floor numbers the moment after you stepped into an elevator to head to a job interview on the top floor that you're running late for — It's hard to resist the "press me now" urgency of a button.
But if your email buttons don't load or aren't appealing, then you won't be getting any clicks, and you should have stuck with a link.
This is why it's so important to A/B test links v. buttons.
EXAMPLE:
Which one looks more appealing to you? The answer will vary for your customers, depending on factors like whether they tend to read your messages on mobile, how often you use buttons (be careful — button fatigue is real!), etc. A/B test to know what's best.
What to Test Metric #8: Number of Links and Placement of Links
Some brands probably think that LOL stands for "Lots of Links."
Highly clickable content makes sense for some marketers — such as for ecommerce brands. Just like everything else, this is a metric that you'll want to test and re-test to ensure that you're writing and designing emails that are relevant and appealing to your customer.
EXAMPLE:
FROM: Refinery29
WHY IT'S GREAT: There are lots of things to click here. Stories, ads, even social media follow buttons. Refinery29 has determined that this is what their audience wants, so they deliver it and reap the strong click-through rates.
FROM: Jersey Mike's Subs
WHY IT'S GREAT: On the other hand, sub shop Jersey Mike's knows that few people can resist the siren's song of a coupon for freebies, so they've made that offer the focal point of this email.
What to Test Metric #9: First Name Personalization in Subject Line and/or Email Body
When a stranger greets you by your first name, it's jarring. When a friend does it, it's music to your ears. When the front desk at a hotel you regularly visit uses it, it's a nice touch; when a fast food employee at a place you've never visited before does it, it's genuine cause for alarm.
Just like anything in life, the decision about whether or not to use first name personalization in emails is complicated and sometimes unpredictable. That's where the A/B Test comes in.
EXAMPLES:
Subject Line A/B Test:
OPTION A: Subject: [Name], Do You Have a Minute?
OPTION B: Subject: Do You Have a Minute?
Hmm — this one straddles the line between hokey and helpful. Your mileage may vary, depending on what your brand's tone is.
Email Body A/B Test:
OPTION A:
OPTION B:
You've gotta admit, personalization in the graphic of this Starbucks email is pretty cool.
What to Test Metric #10: Animated GIFs
In many ways, we're all just cats chasing a laser.
It's very hard for people to ignore the appeal of moving graphics — especially when tastefully done and used judiciously.
Do GIFs make sense for your marketing emails? The answer will depend on your brand, your customers and the GIFs you choose. A/B Test to find out.
EXAMPLE:
OPTION A:
OPTION B:
In this email from Bonobos, the image is compelling enough — but the Magic Mike version really sells the benefit (tear-away modular pants) with an arresting animation.
What to Test Metric #11: Font Colors & Font Styles
Cool colors for calm. Warm colors for excitement. Serif fonts and sans serif styles.
When it comes to text, there's more than just words — email is a visual medium, so you have to consider the way things appear on the screen, too.
A/B test different font colors and font styles to see what impact they have on your conversion rate. Amazingly, something as simple as changing the color of a call to action button can have a big impact! Same goes for using different font styles.
EXAMPLES:
FROM: 22 Days Nutrition
WHY IT'S GREAT: Yellow is widely considered a cheery color that puts people in a great mood. The green text picks up the mint leaf in the photo and conveys "go" — just the boost customers need to commit to selecting a plan from this meal prep company.
Brush script-style fonts aren't right for every brand — in fact, they're probably not right for most brands. But for a floral company, this whimsical typeface conveys just the right vibe.
What to Test Metric #12: Tone: Human vs. Corporate
"Sup fam" or "Dear Valued Customer" — there is a huge tonal difference between the two.
The tone you choose for your marketing emails will vary based on your brand, your target customer and the reason for your message. In general, you'll want to stay consistent with your other brand messaging, but there can be good reason for switching things up every once in a while.
EXAMPLES:
Discount code aggregator UNiDAYS offers trackable promo codes to customers when they provide a .edu email address. No wonder their emails feel so casual and young — they're speaking the language of their users.
On the other hand, Target keeps it mostly straightforward and informational with their email tone. The corporation sends loads of sale and new arrival emails, so too much slang or casualness could become grating.
How to A/B Test: What to Keep in Mind
You know what to test.
So how do you set up your tests so that the data is clean and actionable? Here are a couple guidelines:
Change only one thing at a time: In science experiments, the baseline is called the control. In medical studies, it's called a placebo. In your email A/B tests, we advise that you change only one thing at a time, and make that thing simple to start, so you can be clear on what's driving your results.
Take time of day and day of week into account: Similarly, realize that A/B testing isn't 100% perfect — you may have to run tests at different times or on slightly different customer segments. Always consider how the factors beyond your control are affecting your results.
Keep track of everything: You may think you'll remember different results, but trust us, you won't have the same encyclopedic recall of your A/B test data that you have right after the test when a few weeks, months or even years pass. Keep meticulous notes, and put new insights into play as you go.
Implement testing into your day-to-day. Make it routine!
Keep your test groups small enough to be manageable, but large enough to make the results statistically significant.
Open your mind to the possibility that even seemingly small differences in your A/B test results can indicate important trends and insights that can be harnessed to make meaningful impacts. Test and re-test to confirm.
For the love of megabytes, please take heed of the insights that come from your A/B tests! Otherwise … what was the point?
A Little Hope Goes A Long Way
So much of the Star Wars movies revolves around hope.
Those characters had to believe they can fight the evil empire and shine a light on the darkness.
Email marketing is the same way.
Before you get started, things can seem complicated or overwhelming. However, it doesn't have to be. Start simple and build from there.
Should you find yourself feeling like there is no hope, remember our favorite heroes and get inspired to follow in their footsteps.
As Obi-Wan Kenobi said:
The Force will be with you. Always.
Remember the lessons you learned here today and harness the force of email marketing for your business.
Are you ready for a smarter way to engage with your customers?
Benchmark helps you do email marketing the practical way. Create an ongoing relationship with your subscribers that leads to increased sales and happier customers.